Connection and transaction approval on-line with use of credit cards in association with Eurobank - www.Eurobank.gr

and ALPHA BANK - www.alpha.gr

3D Secure Services - (Additional Secure Service)
The Bank offers the Verified-by-Visa - Mastercard and Amex Secure Code services authorized by the International Visa & Mastercard Organizations, in order to double-secure your on line-transactions made by credit cards.
These services protect you when you transact online, from potential malicious use of your information, because it requires the use of personal secret password, which you enter during your online shopping.
This way is electronic control of data in order to complete your transaction with the maximum safety.
All valuable and personal bank information during your transaction is encrypted with an SSL 128bit protocol.
Safety guarantee of your transactions with the cooperation of international Encryption Software Development Companies for the certification of our sites :
VERISIGN
MICROSOFT
VISA INTERNATIONAL
MASTERCARD EUROPAY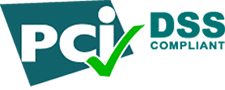 Paleologos s.a. is Certified according to the international safety standard Payment Card Industry Data Security Standard (PCI DSS). The PCI DSS was created by the International Organizations Payment (VISA, MasterCard, AMEX, Discover/DINERS, JCB).