Greek Ferry schedules to/from Skopelos. skopelos ferry timetables. skopelos ferry connections. skopelos ferry prices. skopelos ferry availability. skopelos ferries online booking. skopelos ferries to Greece mainland and other Greek islands.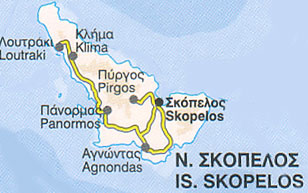 SKOPELOS
The beauty of this island is apparent even as one approaches it by ship (58 nautical miles from Volos) : picturesque large and small bays, golden sands, slopes covered with olive trees punctuated with pleasant little huts, churches and monasteries, dazzling white in the sun.
The chief town named after the island, Skopelos, climbs down daintily tier-by-tier in a semi-circle till it touches the shore – a beautiful vision in white. It is a seaport town with a local colour of its own: cobbled narrow streets courtyards, filled with flowers, and gleaming rooftops in a fascinating variety of shapes. Many of the women, clinging faithfully to their island traditions, wear their local costume – a silk skirt embroidered with tiny flowers, a velvet short coat with wide flowing sleeves finely embroidered, and a gossamer – fine silk kerchief over their heads with justifiable pride. A visit to a Skopelos house is a pleasure in itself, not only for its interior decoration but also for the owner's hospitality
- - Find all the connections and schedules that Greek Ferries operate between Greek Islands ( Skopelos, Volos, Skiathos, Alonissos, Agios Konstantinos, Anafi, Aedipsos, Andros, Aedipsos, Agios Nikolaos, Agios Constantinos, Agios Efstratios, Agios Ioannis, Agios Kirikos, Agia Marina (Leros), Agathonisi, Anafi, Aegiali, Aegina, Alexandroupoli, Alonissos, Anafi, Andros, Antikythira, Antiparos, Argostoli, Argostoli, Arkyi, Astypalea, Chalki, Chalkis, Chania, Chios, Corfu, Diafani, Diafani, Donoussa, Epidavros, Evdilos, Farmakonisi, Folegandros, Fourni, Gerakas, Glossa, Gythio, Hermioni, Hydra, Igoumenitsa, Ikaria, Iraklia, Ithaki ( Pisaetos ), Ithaki, Kalamata, Kalymnos, Karistos, Karlovassi, Karpathos, Kasos, Kastelorizo, Katapola, Kavala, Kilini, Kimolos, Kissamos, Korinthos, Koufonissi, Kyparissi, Kythira, Lavrio, Lipsi , Leonidio, Leros, Lesvos, Limni, Limnos, Lixouri, Methana, Milos, Monemvassia, Moudania, Mykonos, Nafplio, Naxos, Neapolis, Nisyros, Orei, Paros, Patmos, Patra, Paxi, Pefki, Psara, Piraeus, Platanias, Poros ( Kefalonia ), Poros, Porto Heli, Pythagorio, Rafina, Rethimno, Rhodes, Sami, Samothraki, Serifos, Sifnos, Sigri, Sikinos, Sitia, Skiathos, Skopelos, Skyros, Spetses, Suvalla, Schinoussa, Symi, Syros, Thassos, Thessaloniki, Thira, Thirassia, Tilos, Tinos, Tolo, Trikeri Island, Trikeri, Tyros, Vathi, Volos, Zakynthos, Crete - Sitia, Chania, Rethymnon, Agios Nikolaos, Sitia, Corfu, Cephalonia, Ithaca, Hydra, Sifnos, Serifos, Kimolos, Milos, Aigina (Aegina), Poros, Spetses, Santorini (Thira), Ios, Mykonos, Paros, Naxos, Andros, Syros, Tinos, Amorgos, Folegandros, Kos, Kalymnos, Leros, Patmos, Karpathos, Chalki, Rhodes, Symi, Lesvos, Chios, Lemnos, Samos, Skiathos..)

Click on "International ferry routes" to search for all Greek Ferries ( Anek Lines, Agoudimos Lines, AnekSuperfast, Blue Star Ferries, Bodrum Express Maritime, Endeavor Lines, European Seaways, Grimaldi Ferries, Hellenic Mediterranean Lines, Minoan Lines, Marmara Lines, Superfast Ferries, Sea Service, Ventouris Ferries, Snav Ferries, etc) connecting Greece with other east Mediterranean countries ( Greece, Italy, Albania, Turkey ). Also you can make your booking request for Greek ferries by filling in this "International ferry Lines Reservation Form".
Click on "Group Reservation Form" to request the best Group offers for international routes. Click on "Domestic ferry routes" to search for Greek islands ferries schedules, connections, prices, availability and make your booking on-line for all Greek ferry companies ( Hellenic Seaways - Hellas Flying Dolphins, Hellas Ferries, Minoan Lines, Anek Lines, Blue Star Ferries, G.A Ferries, Lane Lines, Saronic Dolphins, Nel Lines, Dodekanissos Speedways, Alpha Ferries, Anen Lines, Saos Lines, Strintzis Ferries, Euroseas, Ventouris Sea Lines, Aegean Speed Lines, Agoudimos Lines, Super Jet, Anes Ferries, Nova Ferries, Ionian Ferries, Kallisti Ferries, Cyclades Fast Ferries, Zante Ferries, Santorini Maritime, Sea Service etc.) connecting Greece and Greek islands, Also you can make your booking request for Greek islands ferries by filling in this "Domestic ferry Lines Reservation Form". Click on every shipping company listed below to browse. its pages.
You may also use our interactive Search Map (international ferries schedules only from/to Greece, Italy, Albania, Turkey).
Click on " Italian ferries" : to search for Italian Domestic Lines and ferries from/to Italy, Croatia, Spain, France, Tunisia, Corsica, Malta.


Click on "Hotels" to search for hotel accommodation in Greece - mainland and Greekislands.


Click on "Flights" to search airplane connections to Greece and Greekislands

GRIMALDI Lines
(Italy) Brindisi - (Greece) Patras
(Italy) Brindisi - (Greece) Igoumenitsa
(Italy) Brindisi - (Greece) Corfu
Cruises Car Rental Hotels in Greece Excursions in Crete
Railways in Greece Company profile Shipping Agency
Weather in Greece Hall of Links @ Contact us!
Find the Ferry Connection and Schedule you need to travel in
Greece, Italy, Albania, Cyprus, Turkey, Israel, Crete and Greek islands.
"Special offers for Groups'
The Largest Greek ferries Database
Over 60.000 Greek ferry sailing's monthly!
On-line Booking system for Ferries from/to Greece and Greek islands.
Schedules, Connections, Prices, Availability for all ferry companies.






Tourist services for Crete and Greece, information about Greece, Crete and the Greek islands, Greek ferries ticketing,
Airlines ticketing, Charter airlines ticketing, Railways ticketing, Excursions in Greece and Crete, Cruises in Mediterranean Sea and the Greek islands, Hotels, Apartments, Car Rental, Yachting.
Fully updated databank available.
Make your reservation either Online or by Fax. All major credit cards accepted.



* * *
Contact us in order to confirm the winter itineraries.
They are subject to change without prior notice.
www.Ferries.gr
Email : info@ferries.gr
[Greek Ferries Search Map for International Routes] [Anek Lines] [Minoan Lines]
[Blue Star Ferries] [Superfast Ferries] [Agoudimos Lines] [Med Link Lines] [My Way Maritime]
[Ventouris Ferries] [Fragline Ferries] [Hellenic Mediterranean Lines] [Poseidon Lines] [Salamis Lines]
[Hellas Flying Dolphins] [Lane Lines] [Nel Lines] [G.A. Ferries] [Cruises in Greece]
[International Ferries Schedules] [Domestic Ferries Schedules] [Flights in Greece]
[Railways in Greece] [Hotels in Greece] [Car Rental in Greece] [Company Profile] [Shipping Agency]
[Hall of Links] [The weather in Greece NOW!]
Copyright © 1999- Paleologos S.A. Shipping & Travel Enterprises. Pages by Dimitris Valakos All rights reserved.