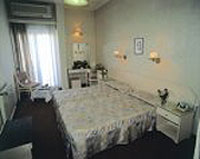 PALLADION HOTEL



The hotel disposes of 121 rooms and 7 luxurious suites, all featuring the following equipment as standard.
Three conference rooms, all fully equipped and air-conditioned, named Ellopia, Aoos and Peliades. Their seating capacity ranges from 12 to 100 people and they are ideally suited for conferences, congresses, meetings, commercial demonstrations, cocktails, banquets, incentive events or any other similar activity. A Business center, also fully air-conditioned, intended to support the above mentioned activities or simply to serve you with secretarial facilities such as typing, faxing, internet etc. The hotel also features a FREE private parking with a capacity of 80 cars and 5 buses, accessible 24 hours a day.
Private bathroom, Air conditioning, Digital telephone with direct-dial facility, Satellite TV with choice of 25 programs, Heat and noise isolating windows, Hair-dryer and shaving plug in the bathroom, Room Service, Restaurant, Bar, Cafeteria, Exchange bureau, Conference and meeting facilities, Business center, Car rental office, Safe deposit boxes, Mini fridge.

Blt 1958, Ren 1988, Open Jan-Dec, Sglb: 23, Dblb: 100, Stel: 7.