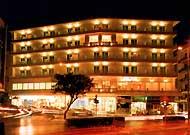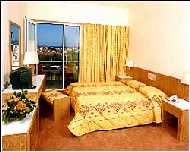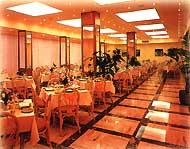 KYDON HOTEL (Chania town)


Built over ancient KYDONIA, in the heart of Chania, the city which evokes precious old charm, rich in history, colours and scents of a bygone era, stands Hotel KYDON.
The four star hotel occupies one of the most convenient locations in town, across from the main shopping district, within walking distance of the old quarter of the city and the Venetian port.
Hotel KYDON embodies a rich Cretan tradition of warm hospitality. Tasteful and convenient accommodations and a solicitous staff combine to create an ideal destination for discerning travellers.
Located on the first floor and over looking the town's lively market, a delightful Bar and Coffee shop is the popular spot for people, watching or relaxing while enjoying cocktails, coffee or light snacks.On the same floor, the hotel's restaurant is open daily for a lavish buffet breakfast, lunch and dinner featuring an excellent menu of Greek cuisine and local specialities. Chef will be happy to accommodate and plan special dietary requests for vegetarians, diabetics and guests on restricted diets.
Hotel KYDON built in 1968, completely renovated and redecorated in 1998, blends the past with up-to-date luxury for all visitors, for both business and leisure.

All rooms with balconies, some with a panoramic view of the city, are equipped with air conditioning, mini-bar, satellite T.V., music, soundproof windows, personal safe, hairdryer, direct-dial phone and computer modem port.

Bar, Coffee shop, Restaurant, T.V. lounge, Fax facilities, Conference facilities for up to 50 persons, Room service, Parking.
Blt 1968, Ren 1998, Open Jan-Dec,
Rooms 114, Suites 8 ( 2 presidential, 4 junior, 2 family )