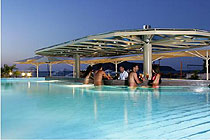 THALASSA BEACH RESORT

Air-conditioned throughout, American buffet breakfast/dinner, Animation program, Pool snack bar, Lounge bar, Pool beach bar, Swimming Pool, Children's Pool & playground, Indoor swimming Pool, Sauna, Jacuzzi, Fitness center, Hairdressing, Massage, Beauty salon, Baby sitting. All rooms & stes with direct dial phone, internet access, safe, satellite TV, mini fridge, hairdryer. Suitable for the disable Conference & Banqueting facilities for up to 200 persons.
.
Distances from: Chania City Centre [9 km], Souda Ferry Port [15km], Airport [25km], Platanias [500m].
.
Blt 2006, Open May-Oct, Rooms 55,
Junior stes 21, stes 4.